Drupal vs. WordPress: Pros, Cons, and Uses
Drupal and WordPress and CMS choices, oh my!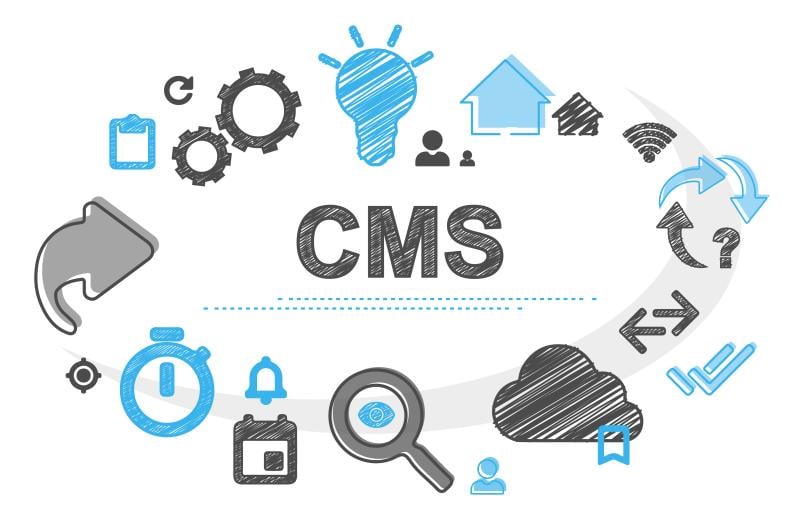 Drupal and WordPress and CMS choices, oh my! When it comes to building a website, the choices seem endless. As a world-class developer, we get asked which platform is the best a lot. You may not be too happy with our answer, but it depends on what you're looking for. We can easily build your next digital project in either Drupal or WordPress, but which one will tick off the boxes for your business? Let's find out.
Drupal vs. WordPress
Before we put the two platforms together in the boxing ring, we need to whip out their character sheets first to figure out what exactly these two heavy hitters can do.
WordPress
WordPress is one of the most common web development platforms out there — 39.5% of all websites are powered by WordPress. For good reason too. It is a well-balanced platform that's great for beginners, boutiques, small businesses, blogs, and so much more.
Some notable examples of websites run on WordPress are:
The White House
Sony Mobile
University of Washington
Mercedes Benz
TechCrunch
The New Yorker
As a fighter, WordPress was the next big thing that quickly won competition after competition. It knocks most competitors out in the first round with its versatility, thousands of different plugins, and ease of use. It's definitely hard to beat.
Drupal
If WordPress is the upstart champ, then Drupal is its master and long-term rival. It's been in the industry for a while and mastered the art of big business.
Drupal gives you the power to create highly customized websites with little to no code, but is less beginner-friendly than WordPress. For experienced developers, building custom projects for larger companies or beautiful and dynamic websites for local boutiques is a breeze. It has more versatile technology resources, such as its advanced search engine optimization (SEO) functionality, and thousands of modules to ensure you can create exactly what you need.
As of January 2021, about 2.4% of all web sites using a content management system are powered by Drupal. This may seem like a small number, but don't count Drupal out. The platform helped build extremely notable sites, like:
BBC
NBC
NASA
University of Colorado
The Economist
Dallas Cowboys
As a fighter, Drupal is the OG champion of web development. It started its career in the ring in 2000, while WordPress didn't enter the fray until 2003. Drupal is analytical — it specializes in data, experience, and security, while (unlike WordPress) content creation is secondary. Drupal might be the less popular champion, but it's a heavy hitter that shouldn't be counted down and out in this fight.
Shared Traits
Drupal and WordPress are both popular CMS platforms where you can build virtually anything you need. Both of them accelerate web design by avoiding the time-consuming process of creating code from scratch.
So, which is better? It's time to throw them into the fighting ring and answer this question once and for all: Drupal vs. WordPress: who will win?
Where WordPress Wins
WordPress faces off against Drupal and immediately takes the lead with its beginner-friendly features. Non-developers can pick up WordPress with relative ease, which makes it ideal for business owners and individuals who can't afford higher-end web development services. That, paired with countless free templates, drag-and-drop website builders, and low-cost solutions, and WordPress easily lands a right-hook on Drupal to win the first round.
WordPress jumps back into the second round with vigor to show off its massive global community that's available to offer resources and support for any issue you run into. This move puts it in the lead during round two and it starts to land the winning blow with its thousands of third-party themes, plugins, and opportunities for custom development, but Drupal is ready and counters with its modules — they're too evenly matched here to determine a winner.
Where Drupal Wins
Drupal may have lost the first round, but it's always been a slow burner — the longer you spend with it, the more it can do for you.
In the second round of the fight, Drupal and WordPress are evenly matched, but Drupal has a secret up its sleeve: flexibility. Most developers who are skilled in both platforms agree that Drupal's custom content types are more versatile than WordPress's. That, paired with Drupal's custom individual permissions (WordPress only allows for 5 basic user roles), means Drupal pulls ahead to win round two.
Tied up and with one round left, Drupal is hitting its stride. It strikes quickly with its better security features. Its lockdown security, which is why it's a popular content management system for government institutions and other large corporations, keeps its users safe. Drupal only accounted for 2% of the hacked websites in 2016, whereas WordPress accounted for 74%. When done right, WordPress is secure. But the fact that WordPress relies so heavily on third-party extensions makes it far more vulnerable than Drupal.
Both of the platforms go in for the final blow and both hit their target — WordPress fueling its power with how easy it is for beginners to use, and Drupal finding a hole in WordPress's security. With that, the round is over, and both are still standing.
So, who wins?
Drupal vs. WordPress: Who Wins?
It may seem like a copout, but when both platforms are utilized to their fullest potential, the only winner is you. While WordPress's usability and sheer number of plugins are attractive to most, and while Drupal's customization features, security, and higher-level of development are appealing as well, they both can create fully customized and dynamic websites that fit your needs.
If you don't know which one to choose, ask yourself these two questions:
Who is managing the website?
How secure does it need to be?
Choose WordPress if the website manager doesn't have much development experience managing the site and choose Drupal if they do and/or they're willing to learn. If security is your primary concern, then Drupal is the way to go. Sometimes, it really is that simple of a decision.
If you're still confused, then let the experts handle it for you. Reach out to Agile 451 today and we'll build you the perfect websites for your company on the perfect CMS for your company to permanently end the Drupal vs. WordPress debate.