Drupal Vs Sitecore: Which is Better?
Drupal and Sitecore are the leading CMSs in the market, but they both have their own advantages and disadvantages. Making the right choice can be critical to the success of your project.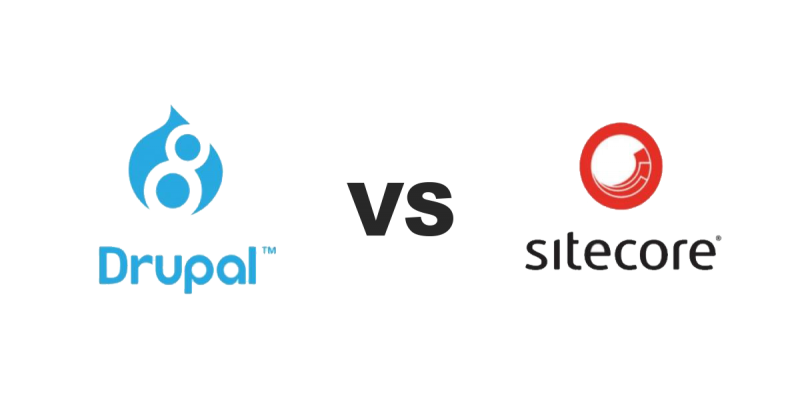 In comparing content management systems, there are many factors to consider. The ideal platform boils down to the budget and needs of each user. Drupal and Sitecore are two content management and website development platforms you can use to build out your company's website and manage web content. While Drupal gives you a ton of flexibility in terms of design and website functionality, Sitecore offers marketing and analytics features that can bring you a solid return on investment.
Website Development
Since Drupal is an open-source software, there are many plugins at your disposal you can use to customize your website. While Sitecore does offer real-time personalization of your website, Drupal offers a wider variety of options for modules, designs and displays, making it overall more customizable in terms of layout and website features. Whether you're creating a website for an e-commerce store, membership platform or creative portfolio, you can take an infinite number of approaches when it comes to layout and design.
As far as website development, Sitecore is more limited than Drupal. It has a slightly steeper learning curve and requires you to stay within the framework of Sitecore, whereas plugins let you step further outside the box when using Drupal.
How Do Other Features Stack Up?
When it comes to the features these two platforms offer, Sitecore takes it to the next level with marketing tools.
Sitecore helps you target your customers with a host of advanced tools, including behavioural targeting and predictive marketing. It also comes with data analytics tools that can help refine your content marketing strategy by determining what's getting you the most engagement and conversion. It offers cross-channel data analysis, A/B testing and other insights to help you improve your reach.
Another feature Sitecore offers that Drupal doesn't is the ability to manage your account from a mobile device using the Sitecore app.
Cost Comparison
Drupal is free of cost, while Sitecore's price is quote-based. However, not all Drupal plugins are free, so there may be some cost to it, depending on your needs. Because there isn't an upfront investment needed to get started with Drupal, it's ideal for sole proprietors such as freelancers, as well as nonprofit organizations and startups on a shoestring budget. Drupal's technology can adequately service large enterprises, but Sitecore's price accounts for the extra features you don't get with Drupal, such as mobile app management, A/B testing and analytics. Due to Sitecore's marketing features, it could score you a good return on investment.
Bottom Line
In terms of website customization and functionality, Drupal excels. However, Sitecore's platform comes with many tools for targeting your audience and marketing your content. Because it's an open-source software with an active community, it's easy to get technical support for Drupal. However, Sitecore also offers ample support to its paying customers. For sole proprietors businesses on a budget, choosing Drupal could be a no-brainer. However, larger enterprises may want to consider Sitecore as a more complete, all-in-one system for content management and data analytics.