Home Working and Mental Health Preservation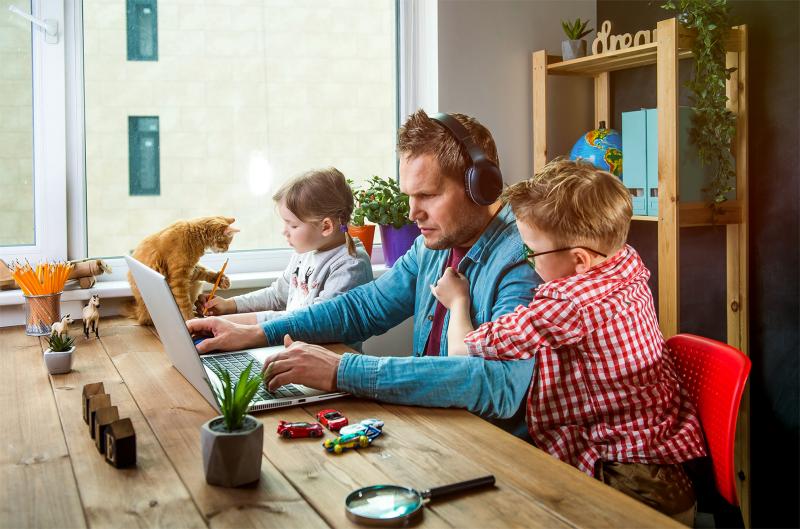 Whether you usually work from home or have found yourself unexpectedly working from home, you'll recognise some of the less desirable feelings that can creep up on you; the sense of isolation and feeling detached from the workplace, blurred lines between work and home life and even in some cases, insecurity about your position within a company.
Many of our team at Agile451 work remotely and may be familiar with these thoughts. With personal experience, here are our tips for protecting your mental health when working from home.
Create a comfortable Work Zone
A home office is an absolutely necessity. Whilst most people don't have the luxury of a spare room, making a dedicated and undisturbed work zone is so important – for example utilising a dining room or space that you can close the doors on for calls and interviews. Movable storage boxes and trays for paperwork are also useful if you are using something dual purpose like a dining table; that way if you have regular video calls you're not scrambling to find a tidy, professional-looking space each time you check-in.
That aside, if you're finding it hard to concentrate or get motivated, the advantage of working from home is that you can move around freely, without waiting for a meeting room or comfortable chair to become available. Sometimes your comfortable sofa is a better place to jot down ideas for a new project, or you can embrace the opportunity to get some fresh air whilst on a call.
Declutter your environment
Working from home may make you more aware of how clutter affects your mental health and concentration; it can be even more difficult to manage when you share your living space with others, particularly with children. If you find that clutter elsewhere in the home is affecting your mood or encroaching on your space, discuss having a good clear out of your whole living environment.
Use separate devices for work and leisure
Wherever possible, keep your work-related digital communications and documents on dedicated work devices; it means that you won't continuously get notifications from social media and non-work-related emails. It might seem like an unnecessary hassle, but having a dedicated work mobile and personal mobile will help you maintain the boundaries between work and leisure, which so often get blurred when working from home.
Check-in regularly 
Feeling isolated when you are used to a bustling office environment can be tough, and so it's important to schedule regular check-in's with colleagues to ensure that your workplace connection remains. If you are temporarily remote working, it can be a bit of a shock to the system; so even 'body doubling' can be effective. Body Doubling is a concept for focus and productivity that relies on the presence of another person to help you remain focused, and this has been known to be effective even through a screen. Most importantly, it provides the opportunity to interact with colleagues as you usually would in an office setting. Zoom and Skype are free to use and can really help you focus and feel less isolated, even in isolation...
There are many benefits to remote working - just make sure you set clear boundaries for where work starts and home begins.