The Pros and Cons of White Label App Development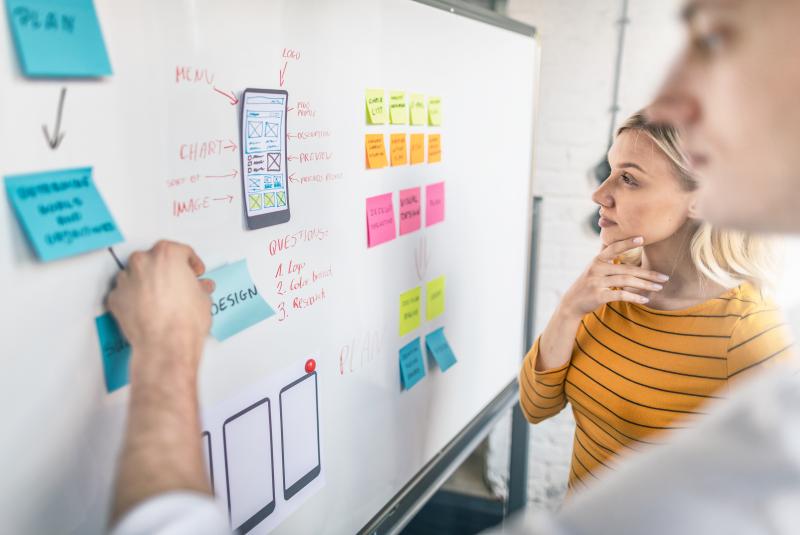 When you want to make an app, you're faced with three choices: develop it in-house, outsource a development team, or buy a white label app. There are pros and cons to each choice, but if in-house development isn't an option, then you'll want to know everything you can before you outsource the work, including how to not outsource so you can save yourself time and money. The solution: white label app development.
What is a White Label Mobile App?
Let's break this down: "white label app development" is when developers will build an app with the intention to resell it to another business. The buyer can then re-brand the app as their own. The concept of white label apps emerged as a solution to help businesses have their own app with the least possible investment.
Think of it like this: Company A builds a generic framework for a food delivery app that contains all of the needed features, such as user logins, the potential for food tracking, and location-based searching. Company A can then sell the framework of this app to Companies B and C, who want to launch their own food delivery service.
Company B uses it to create a direct competitor to DoorDash , while Company C uses it to create a grocery-delivery app that is exclusive to a specific grocer. Each company adds their branding and their mission, then launches the app. Though it has the same framework, both appear significantly different and accomplish different things.
This isn't the only want to utilize white label mobile apps, though. Many agencies also consider buying white label apps solely for the purpose of reselling these apps to other businesses. These resellers usually have a vast network of software companies that build white label apps and businesses that want to buy such apps.
Pros of White Label App Development
White label app development has a lot of good things going for it. Including…
Cost Efficiency
In almost every single case, choosing white label is going to be a better investment than developing your own app from scratch. You won't have to worry about hiring developers, designers, testers, and project managers, and you don't have to stress over outsourcing the work to another agency.
White label app development agencies also sell their apps to multiple businesses, and they don't necessarily sell ,all of it either. If you don't need X, Y, and Z in the app, but you need A, B, and C, then you only have to pay for A, B, and C.
No Project Managing Necessary
You're not the project manager for this project and you don't need to worry about any of the development process at all. When you buy a premade app, it's already done. The only management you'll need to do is when you add your own branding and personal flair to the app before you launch it.
Readily Available Solutions
Need a solution? It's already there for you, no development needed. App development is a complex task that can take months, or sometimes years, to complete. If you need a solution quickly, or don't want to fall behind the curve, white label is the only way to go.
You Don't Have to Maintain the App
Yes, you read that right. Even though you buy the app, you don't need to maintain it. Most white label app developers have a dedicated team of QA experts that track the app's performance. If there are any bugs or glitches, contact the seller and they will take care of it.
Cons of White Label Apps
Despite all of the benefits, nothing is ever perfect. Here are the cons of buying a white label app development.
Limited Customization
Hands-down, the biggest disadvantage of white label apps are the limited customization options. If you make an app from scratch, it can be exactly what you want it to be. However, white label apps are often a "you get what you see" scenario. You can change the colors, add your logo, and maybe move a module around, but that's pretty much it.
There is a solution: you can hire a white label development agency to make the app you want as well. They may resell the framework, or they may develop it exclusively for you. Give a white label developer a call and see what they can do for you!
Brand Identity Overlap
With limited customization comes limited differences. This may make it difficult to differentiate your branding and your app from another company that bought the same app framework last year. It's not always the case, but the layout and format will be similar no matter what you try, which may lead to some confusion if customers are using both apps.
Source Code Ownership
You're buying the app, but you're not buying access to the source code or the server. This disallows you from knowing how robust the source code is and how secure your user's information really is.
If you develop the app yourself or hire a team to make it, then you can negate those risks immediately. With white label, you never know what it is unless you ask.
So, there you have it! If you're convinced and want to try white label apps for yourself, look no further than Agile 451. We're fully transparent to negate any security fears, and we're here to help you!